Milestone Parties, Senior Events, Christian Events, Holiday Parties, Multicultural Celebrations, Intimate or Large
San Jose & San Francisco Area Party DJ and Emcee
Your Signature Event Deserves Personalized, Quality Entertainment
You deserve the best for your milestone party, whether it's a diverse multicultural gala, holiday bash, senior celebration, Christianity-centric event, or other special occasion. Large or small, planning an event can be stressful. Take the worry away by working with an experienced, gifted, and caring professional party dj and emcee who can truly personalize your event.
By thoughtfully listening to your needs and working closely with you, Sean tailors the mood and creates a connection between your guests with just the right combination of spot on music, atmosphere, and ambiance. Planning a milestone birthday or anniversary party? Add a moving and heartwarming Audiomazing Love Story to honor the occasion.
Sean is more than just a professional DJ and talented Emcee. As a guitarist, singer, and actor, he offers a full, high energy, multimedia, immersive experience. He has a self-professed "obsession" for music and continues to hone his DJ and MC skills through continuing education and professional associations.
As a talented stage and voice-over actor, Sean brings extra polish and poise to his Emcee skills for your milestone party, corporate event, fundraiser or Christian event. Everything is handled with a friendly warmth and utmost professionalism. Be sure to learn about ourAudiomazing Love Story option,especially nice for Anniversaries and Celebrations of Life.
Sean even sings. Sean is music-obsessed and equally mesmerized by the stories of every couple and client he works with. Whatever you're celebrating, your event deserves the kind of music, precise timing, and quality sound equipment (and backup equipment) that gets your guests on the dance floor and having fun.
Creating the perfect environment for amazing memories is key. The right lighting and special effects can transform a space and add a wow factor during important moments, such as stunning guests by dancing in the clouds during the first dance of the night and filling the room with the colors of your theme. Listen to Live Music options.
Don't trust your event to just any DJ. Call/text 650-814-4487 or click the contact button below for availability and more information on pricing,which ranges between $2850 to $6800 (with $3500 being what most clients select).
The right lighting and special effects can transform a space and add a wow factor during important moments of your event.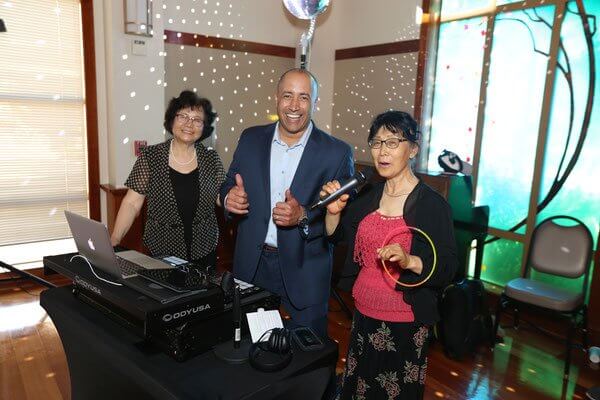 Sean's preparation includes coordinating with your vendors and venue for a smooth and stress free event.
Audiomazing For Heart, Soul & Happy Tears
Sean integrates audio from interviews with couples or honorees, into love stories. When you choose the Audiomazing Love Story option, your guests will be amazed and their hearts will be moved as they hear the voices they know woven into your love story. "I've even had event catering staff pause in amazement and say "wow" as they heard the couple's voices from interviews during my soundchecks." Beautiful for milestones and special birthdays.
"He put together a beautiful story of my parents' lives together." – Luz R
"We Had a Blast"
We had a blast. I hope Shining City Music Entertainment will be available for future events!
"Our Party Was a Success"
Our Halloween party was a success and all to him. The lighting, games, and music were awesome!!! Sean had the whole crowd on the dance floor, including kids.
"Great Music for All"
Great music for all types of audiences, guaranteed to get everyone out of their seats and on the dance floor!